GET A FREE, NO-STRINGS CONSULTATION
If you are ready to get the ball rolling, or if you just want more information before beginning your project, you've come to the right place. So dive in, and once your form is submitted, I will review your needs and get back to you as soon as possible. I look forward to working with you on a successful project!
If you prefer to schedule your Free Consultation immediately, you can pick a time here: https://solidgiant.youcanbook.me.
---
---
What's a typical project look like?
Every project is unique in it's own way, but even so a few things remain consistent. I commit to communicating clearly and regularly with you, to serving you and your goals before myself, to do the very best job I can, and to ultimately create a successful website for you.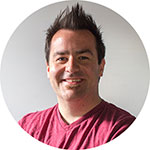 Sincerely, Josh Starr
ps. Check out what a few of my past clients say about me: http://solidgiant.com/client-testimonials